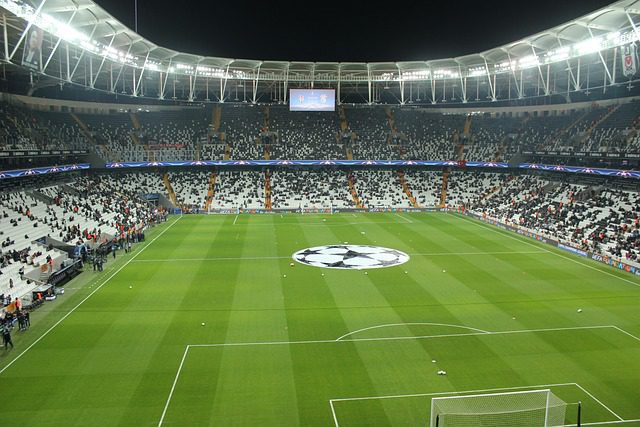 We are back this week with the quarter final first leg ties of all the three UEFA competitions, and the action starts on Tuesday and Wednesday with the Champions League.
With two games on Tuesday and the other two on Wednesday, there's just a short turnaround before the second legs of the games are played on the alternate days next week.
Premier League interest remains with two teams in the quarterfinals, Manchester City and Chelsea, but there are three teams from Serie A remaining in this competition, as well as one apiece from Portugal, Germany and Spain.
As always, any odds shown in this article are taken from bet365 Sport and you can enjoy outright, pre-match and In Play betting across the Champions League this and every week of the competition.


BET365
BONUS CODE: BET247
Get up to €100 in Bet Credits for new customers at bet365
Bet365 Review
Min deposit €5
Up to €100 in Bet Credits
Bet Credits available for use upon settlement of bets to value of qualifying deposit. Min odds, bet and payment method exclusions apply. Returns exclude Bet Credits stake. Time limits and T&Cs apply. The bonus code BET247 can be used during registration, but does not change the offer amount in any way.
Let's now get underway with our look at the ties taking place this week.
Champions League Quarter Finals 1st Leg
All four games across Tuesday and Wednesday this week in the Champions League kick off at 8pm UK Time and all are shown live on BT Sport.
Tuesday 11th April
Benfica v Inter Milan
Two multiple previous winners of this competition, albeit most of those wins came in the 1960s, Benfica and Inter Milan are two of the outsiders to win the tournament, but both teams will feel that this quarterfinal offers both of them a great chance to reach an elusive semi-final.
In terms of form, Benfica have the edge in both domestic football and also European but they will have to respect Inter's tenacity in getting results, often when they have been second best and under great pressure, as they were in their Round of 16 second leg tie against FC Porto.
Benfica have produced some fine results this season notably against Barcelona and despite selling more talent than any other top team in Europe, they have remained very competitive on the back of some clever signings and a fine youth system.
I expect this to be a tight and close affair over both legs and it would not surprise me if there was just one goal in it before we head into the second leg next week in Milan.
BenficaInfoInter MilanLuis Feilipe VieiraOwner/PresidentSteven ZhangRoger SchmidtManagerSimone Inzaghi2Champions League Wins35Champions League Runners Up2M.Haifa (H) W 2-02023 Group Stage Match 1Bayern M (H) L 0-2Juventus (A) W 2-12023 Group Stage Match 2Vi.Plzen (A) W 2-0PSG (H) D 1-12023 Group Stage Match 3Barcelona (H) W 1-0PSG (A) D 1-12023 Group Stage Match 4Barcelona (A) D 3-3Juventus (H) W 4-32023 Group Stage Match 5V.Plzen (H) W4-0M.Haifa (A) W 6-12023 Group Stage Match 6Bayern M (A) L 0-2Cl.Brugge (A) W 2-0Round of 16 1st LegFC Porto (H) W 1-0Cl.Brugge (H) W 5-1Round of 16 2nd LegFC Porto (A) D 0-0P3, W0, D2, L1Head To Head RecordP3, W1, D2, L04/5Odds To Qualify19/2014/1Odds To Win Champs League14/14-2-3-1Likely Formation3-5-2 Predicted XI GK – Vlachodimos1GK – OnanaDR – Bah2DC – AcerbiDL – Grimaldo3DC – de VrijDC – Otamendi (c)4DC – DarmianDC – A.Silva5DMR – DumfriesMC – F.Luis6DML – GosensMC – Chiquinho7MC – BrozovicAMR – Joao Mario8MC – BarellaAML – F.Aursnes9AC – LukakuAMC – R.Silva10MC – MkhitaryanAC – G.Ramos11AC – Martinez
Best Bet – Benfica to win 1-0 – 11/2
Manchester City v Bayern Munich
The two favourites to win this trophy meet in a quarterfinal tie that would have graced the final and in store are two legs of football that could be packed full of goals, drama and excitement in a tie that is probably as close to 50/50 as any.
City's recent form is excellent and with Erling Haaland back in form once again, and after scoring five in the last round against German opponents, City will be keen for him to spearhead their attack against a Munich back line that looks strong.
Bayern will feel that they can expose City's defence on the counter, especially with the pace of the likes of Mane, Sane and Conan, plus the intelligent play of Musiala.
This is an intriguing match up and it would not surprise me if the winner of it goes on to win the trophy in June.
Manchester CityInfoBayern MunichKhaldoon Al MubarakOwner/PresidentHerbert HainerPep GuardiolaManagerThomas Tuchel0Champions League Wins61Champions League Runners Up5Sevilla (A) W 4-02023 Group Stage Match 1Inter (A) W 2-0Dortmund (H) W 2-12023 Group Stage Match 2Barcelona (H) W 2-0Copenhgn (H) W 5-02023 Group Stage Match 3Vi.Plzen (H) W 5-0Copenhgn (A) D 0-02023 Group Stage Match 4Vi.Plzen (A) W 4-2Dortmund (A) D 0-02023 Group Stage Match 5Barcelona (A) W 3-0Sevilla (H) W 3-12023 Group Stage Match 6Inter (H) W 2-0RB Leipz (A) D 1-1Round of 16 1st LegPSG (A) W 1-0RB Leipz (H) W 7-0Round of 16 2nd LegPSG (H) W 2-0P6, W3, D0, L3Head To Head RecordP6, W3, D0, L31/2Odds To Qualify6/49/4 favOdds To Win Champs League7/24-3-3Likely Formation4-2-3-1 Predicted XI GK – Ederson1GK – SommerDR – Walker2DR – StanisicDL – Ake3DL – DaviesDC – Dias4DC – PavardDC – Akanji5DC – de LigtMC – Rodri6MC – KimmichMC – Gundogan7MC – GoretzkaMC – De Bruyne8AML – ManeAC – Haaland9AC – GnabryAML – Grealish10AMC – MusialaAMR – Mahrez11AML – Sane
Best Bet – Man City to win and both teams to score – 11/5
Wednesday 12th April
AC Milan v Napoli
A few weeks ago, Napoli would have been the huge favourites to qualify from this quarterfinal match up, but following Milan's sensational 4-0 win over Napoli in Serie A, which came in Naples, the odds on the Rossonieri springing a surprise have shortened.
That win on the road has been repeated six times in the last eight games between these two teams, with the other two games being drawn, which does suggest that the home teams are not necessarily at an advantage in this game.
I do tend to agree with that as I think Napoli are a side that are so fast on the counter that they can really open up some teams down the flanks and with Osimhen leading the line, they have a natural goalscorer who can take advantage of any chances that come his way.
Milan won't be an easy team to beat, they have some very talented players themselves including Leao, who scored twice in their 4-0 win in Naples, but even so I am backing the visitors to end up ahead after this first leg tie.
AC MilanInfoNapoliPaolo ScaroniOwner/PresidentAurelio De LaurentiisStefano PioliManagerLuciano Spalletti7Champions League Wins04Champions League Runners Up0RB Salz. (A) D 1-12023 Group Stage Match 1Liverpool (H) W 4-1D.Zagreb (H) W 3-12023 Group Stage Match 2Rangers (A) W 3-0Chelsea (A) L 0-32023 Group Stage Match 3Ajax (A) W 6-1Chelsea (H) L 0-22023 Group Stage Match 4Ajax (H) W 4-2D.Zagreb (A) W 4-02023 Group Stage Match 5Rangers (H) W 3-0RB Salz. (H) W 4-02023 Group Stage Match 6Liverpool (A) L 0-2Tottenham (H) W 1-0Round of 16 1st LegE.Frankftr (A) W 2-0Tottenham (A) D 0-0Round of 16 2nd LegE.Frankfrt (H) W 3-0P51, W17, D19, L15Head To Head RecordP51, W15, D19, L1711/8Odds To Qualify8/1520/1Odds To Win Champs League4/14-2-3-1Likely Formation4-3-3 Predicted XI GK – Maignan1GK – MeretDR – Calabria2DR – Di LorenzoDL – Hernandez3DL – RuiDC – Tomori4DC – Kin Min JaeDC – Kjaer5DC – RrahmaniMC – Tonali6MC – LobotkaMC – Krunic7MC – AnguissaAMR – Diaz8MC – PolitanoAML – Leao9AC – OsimhenAMC – Bennacer10AMR – ZielinskiAC – Giroud11AML – Kvaratskhelia
Best Bet – Napoli to win 2-1 – 9/1
Real Madrid v Chelsea
These two teams met in the knockout phase last season with Real Madrid coming out on top in a dramatic tie which saw them lead 3-1 from the first leg and then fall behind 3-0 in the home leg before scoring twice to secure a dramatic 5-4 win on aggregate.
This season, Real have definitely been in the better form and their 6-2 destruction of Liverpool in the last round is a warning to Chelsea as to what they can do to any team should they be given the time and possession to hurt them.
I imagine Frank Lampard is going to set up his Chelsea team to try and hit Real Madrid on the counter attack using pace and I feel that may well be a good tactic especially if that means that they can nullify the influence of Real's key trio of midfielders.
I do expect Real to win this first leg but I also feel Chelsea will very much be in the tie come the second leg and it won't be all over.
Real MadridInfoChelseaFlorentino PerezOwner/PresidentTodd BoehlyCarlo AncelottiManagerFrank Lampard14Champions League Wins23Champions League Runners Up1Celtic (A) W 3-02023 Group Stage Match 1D,Zagreb (A)RB Leipzig (H) W 2-02023 Group Stage Match 2RB Salz. (H) D 1-1S.Donetsk (H) W 2-12023 Group Stage Match 3Milan (H) W 3-0S.Donetsk (A) D 1-12023 Group Stage Match 4Milan (A) W 2-0RB Leipzig (A) L 2-32023 Group Stage Match 5RB Salz. (A) W 2-1Celtic (H) W 5-12023 Group Stage Match 6D.Zagreb (H) W 2-1Liverpool (A) W 5-2Round of 16 1st LegDortmund (A) L 0-1Liverpool (H) W 1-0Round of 16 2nd LegDortmund (H) W 2-0P7, W1, D2, L4Head To Head RecordP7, W4, D2, L12/5Odds To Qualify7/413/2Odds To Win Champs League14/14-3-3Likely Formation4-3-3 Predicted XI GK – Courtois1GK – KepaDR – Carvajal2DR – JamesDL – Alaba3DL – ChilwellDC – Rudiger4DC – KoulibalyDC – Eder Militao5DC – FofanaMC – Kroos6MC – KovacicMC – Modric7MC – KanteMC – Valverde8MC – FernandezAC – Benzema9AC – FelixAML – Vini Jnr10AMR – SterlingAMR – Rodrygo11AML – Mudryk
Best Bet – HT/FT – Real Madrid/Real Madrid – 13/8
*All odds shown in this article were correct with bet365 Sport at the time of writing but may have changed in the meantime.